Create A Business aligned with your Purpose That's Uniquely You
Release The Physical and Emotional "Chains" holding you WITHIN the Business so you can focus on Strategies for Growing it.
Create A Business aligned with your Purpose That's Uniquely You
Release The Physical and Emotional "Chains" holding you WITHIN the Business so you can focus on Strategies for Growing it.
Do You Know The 10 Must Haves For Your Business To Thrive?
Download Your Free Guide to Discover the Answer
We'll never share your information. You'll also receive resources & exclusive offers. Privacy Policy
make 2021 the year you take action
When You Take Control Of Your Business, It Allows You The Freedom To Nurture The Growth and Build a Legacy While Enjoying What's Most Important To You
Just because we've started a new year, doesn't mean the challenges of the past just automatically disappear.
We have to 𝐃𝐎 something different if we truly want things to 𝐂𝐇𝐀𝐍𝐆𝐄
𝑻𝒉𝒆 𝑩𝒖𝒔𝒊𝒏𝒆𝒔𝒔 𝑰𝒏 𝒀𝒐𝒖 𝑷𝒓𝒐𝒈𝒓𝒂𝒎 is an opportunity for you to create a new mindset of Self-Empowerment and Growth and to bring an aligned Purpose and Vision to your business.
It's a 1-on-1 Guided Transformational Program where we work on YOU as well as the Business. 
Change becomes more powerful and possible when you Create a real Plan and then Execute that plan with Purpose.
Repeating the same old "… 𝒕𝒉𝒊𝒔 𝒊𝒔 𝒎𝒚 𝒚𝒆𝒂𝒓…" isn't enough. You've been saying it for too long. NOW is the perfect time to do it. NOW is the time to take Control of the Change you're craving.
𝑻𝒉𝒊𝒔 𝒊𝒔 𝒕𝒉𝒆 𝒚𝒆𝒂𝒓 𝒕𝒉𝒂𝒕 𝒚𝒐𝒖 𝒕𝒂𝒌𝒆 𝑨𝑪𝑻𝑰𝑶𝑵.
Don't let another year pass you by out of fear of change. Let's make 2021 the year that you changed your life and created a business that Thrives.
𝐓𝐡𝐞𝐫𝐞'𝐬 𝐚 𝐑𝐞𝐚𝐥 𝐑𝐢𝐬𝐤 𝐨𝐟 𝐧𝐨𝐭 𝐭𝐚𝐤𝐢𝐧𝐠 𝐀𝐜𝐭𝐢𝐨𝐧 𝐍𝐨𝐰! In another year or 2, you'll be looking back wondering what went wrong. You'll probably even be bringing in another new year saying "… 𝒕𝒉𝒊𝒔 𝒊𝒔 𝒎𝒚 𝒚𝒆𝒂𝒓…" Sound familiar?
So hurry and click the link right now to book in a FREE call to see how the program can help you tackle 2021 with a targeted plan…
Reconnect with Your Core Purpose
Re-ignite Your Passion for Business
Be Unapologetically & Uniquely You
When You're Deep within Your Business, You Can Feel....

You're feeling lost and hopeless, which often leads to becoming withdrawn from life and the business

You're struggling to find balance between family commitments and business success

You're afraid you'll let people down if things don't improve and the business fails
If you can relate, click below...
I was lost and I thought I was the only one...
It's A Journey Worth Taking
It was my own journey which inspired me to help business owners regain their love for what they do. I hit a dark spot in my own business path, and it pushed me into a place of depression and anxiety where I truly thought I was alone. I felt like I was failing in my business and there was no way out of it.
I looked at business coaches and other self-professed 'gurus' and only found generic and basic information…no one actually worked on ME or MY BUSINESS specifically. I knew if I was going to change it, I had to do it a different way, outside of the norm. So, I began from a different perspective, stepped outside of the business and began working on the one main factor which was influencing it all…ME!
What I learned changed what I do and how I do it and now I'm working with other business owners to do the same. Empower themselves, regain control of their business and ultimately enjoy the balance they can create in their own lives. Having an awesome business and a life that makes you truly happy is possible and I would be honoured to show you the way.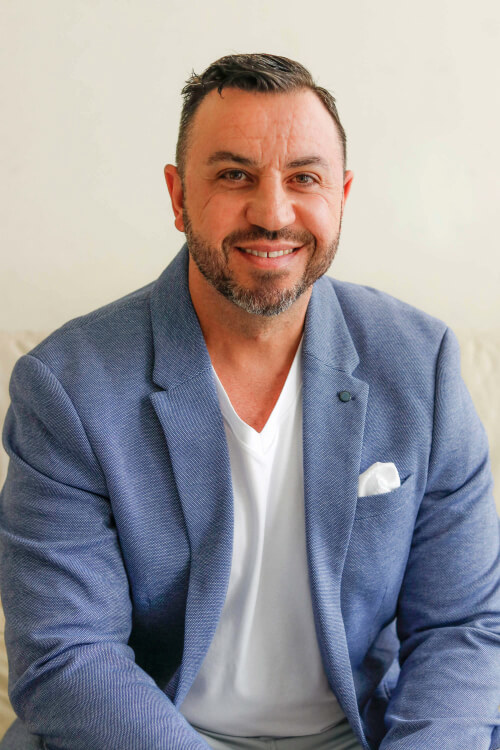 I've worked with a number of coaches in the past, yet within the first session with Giulio I gained the clarity on my purpose that had alluded me before. I'm very grateful. Of course, it didn't stop there. Giulio has challenged & then guided me into a revised business direction. He has done this with strength of character & empathy, grounded in personal experience. I would highly recommend him.
Rachel Main
I've just completed my coaching course with Giulio, and it has been absolutely amazing, he is so patient and got on so well. He has taught me so much about my business, myself and my stuff. I can't wait to continue on with my sessions to see how far we can take this. I could not recommend he's service enough. Absolutely amazing!
Mary Mastroianni
My coaching course with Giulio has been incredibly helpful and insightful as well as enjoyable. He is so practical, logical, strategic, and experienced while also guiding with kindness, emotional intelligence and understanding... I highly recommend Giulio and his services to any business owner and I look forward to the ongoing expansion and growth of my business with Giulio as my coach and guide.
Meagan Cohn
3 Steps to Get Your Business Back On Track

Claim Your Spot Below Today
Book your Coaching session using the calendar below

Create a Purpose-Driven Plan
Together we'll create a proven plan of action

Realign Your Business Strategy
Finally enjoy the business you were meant to have
Create Meaningful Values For Your Life and Business
Download Your Free Guide to Discover the Answer
We'll never share your information. You'll also receive resources & exclusive offers. Privacy Policy
Business Strategy and Vision Coaching Session
Your chance to work with me, one on one, in your Personalised 1 hour 15 minute Coaching Session to get clarity about you and your business.
During this session I'll help you create a crystal clear picture of the business you really want, uncover hidden traps that cause you to hold back, and put together a specific plan to help you stop the madness and put your business success back on track. To book your spot while it's available, use the calendar below.
Click "Redeem Coupon" and enter COACH20 to receive a 20% Discount on your first session
Your Investment In Yourself $249 (Incl. GST)